Overview
MC-1120 is wireless and wired smart controller application for Automatic fire fighting monitors. It's comprehensive functionality and great ease of use make it a highly cost–efficient solution for virtually any remote foam / water monitor application. This controller can be controlled up to 5 actuators in same time via wireless remote control (RC1120) or fix console joystick.
These controller includes:
10Ch. Line monitoring 24Vdc power output switch to connect directly to relay our contactor coil up to 500mA.
10Ch. Opto-Isolation input to receive actuator feedback
14Ch. Opto-Isolation input and 14Ch O/C output to connect joystick, push buttons & indicators in front of fix console
2.4Ghz wireless transducer to communication with RC1120 remote controller.
Benefit:
No need programming in the plant (fully programed).
High reliability and minimal maintenance.
Small physical size.
Wireless module included.
low initial investment cost.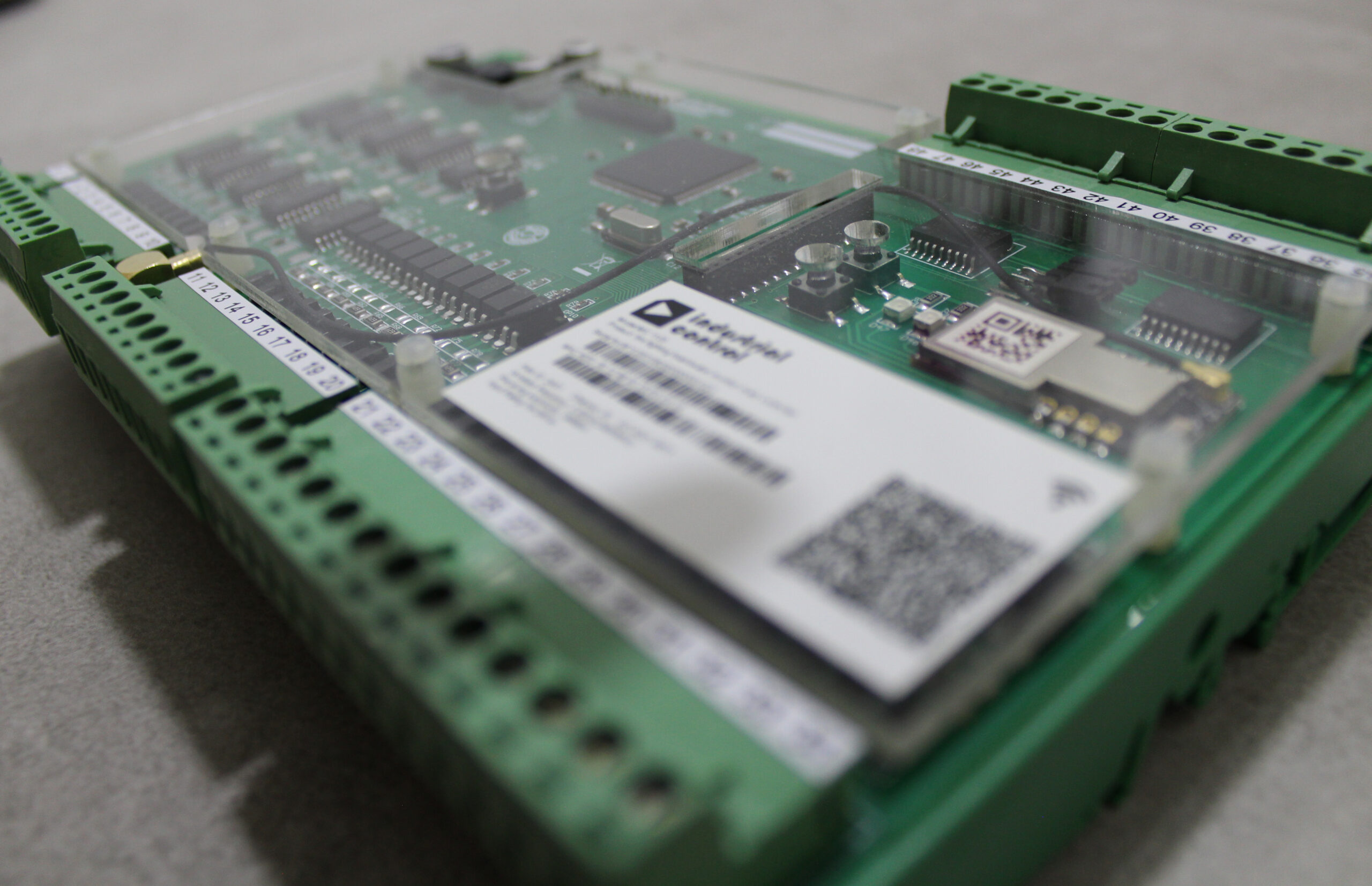 You can find information on terminal wiring in the MC-1120 as below table:
Port Description
I/O
Terminal No.
signal type
to/from
1
Left Command
Out
1
(+)
to 24vdc contactor
2
Right Command
Out
2
(+)
to 24vdc contactor
3
Up Command
Out
3
(+)
to 24vdc contactor
4
Down Command
Out
4
(+)
to 24vdc contactor
5
Motor Fog Command
Out
5
(+)
to 24vdc contactor
6
Motor Jet Command
Out
6
(+)
to 24vdc contactor
7
Water MOV Open Command
Out
7
(+)
to 24vdc contactor
8
Water MOV Close Command
Out
8
(+)
to 24vdc contactor
9
Foam MOV Open Command
Out
9
(+)
to 24vdc contactor
10
Foam MOV Close Command
Out
10
(+)
to 24vdc contactor
11
Left Status
In
11
(+)
from Actuator limit switch
12
Right Status
In
12
(+)
from Actuator limit switch
13
Up Status
In
13
(+)
from Actuator limit switch
14
Down Status
In
14
(+)
from Actuator limit switch
15
Motor Fog Status
In
15
(+)
from Actuator limit switch
16
Motor Jet Status
In
16
(+)
from Actuator limit switch
17
Water MOV Open Status
In
17
(+)
from Actuator limit switch
18
Water MOV Close Status
In
18
(+)
from Actuator limit switch
19
Foam MOV Open Status
In
19
(+)
from Actuator limit switch
20
Foam MOV Close Status
In
20
(+)
from Actuator limit switch
21
Left Joystick Command Station
In
21
(+)
from joystick on command station
22
Right Joystick Command Station
In
22
(+)
from joystick on command station
23
Up Joystick Command Station
In
23
(+)
from joystick on command station
24
Down Joystick Command Station
In
24
(+)
from joystick on command station
25
Motor Fog Joystick Command Station
In
25
(+)
from joystick on command station
26
Motor Jet Joystick Command Station
In
26
(+)
from joystick on command station
27
Water MOV Open Joystick Command Station
In
27
(+)
from joystick on command station
28
Water MOV Close Joystick Command Station
In
28
(+)
from joystick on command station
29
Foam MOV Open Joystick Command Station
In
29
(+)
from joystick on command station
30
Foam MOV Close Joystick Command Station
In
30
(+)
from joystick on command station
31
Emergency Stop Command Station
In
31
(+)
from joystick on command station
32
Enable / Disable Command Station
In
32
(+)
from joystick on command station
33
Oscillating
In
33
(+)
from joystick on command station
34
Com. Fault
In
34
(+)
from fault contact
35
Left Indicator Command Station
Out
35
open collector (-)
to 24Vdc indicator on command station
36
Right Indicator Command Station
Out
36
open collector (-)
to 24Vdc indicator on command station
37
Up Indicator Command Station
Out
37
open collector (-)
to 24Vdc indicator on command station
38
Down Indicator Command Station
Out
38
open collector (-)
to 24Vdc indicator on command station
39
Motor Fog Indicator Command Station
Out
39
open collector (-)
to 24Vdc indicator on command station
40
Motor Jet Indicator Command Station
Out
40
open collector (-)
to 24Vdc indicator on command station
41
Water MOV Open Indicator Command Station
Out
41
open collector (-)
to 24Vdc indicator on command station
42
Water MOV Close Indicator Command Station
Out
42
open collector (-)
to 24Vdc indicator on command station
43
Foam MOV Open Indicator Command Station
Out
43
open collector (-)
to 24Vdc indicator on command station
44
Foam MOV Close Indicator Command Station
Out
44
open collector (-)
to 24Vdc indicator on command station
45
Fault Indicator Command Station
Out
45
open collector (-)
to 24Vdc indicator on command station
46
Enable / Disable Indicator Command Station
Out
46
open collector (-)
to 24Vdc indicator on command station
47
Oscillating indecator command station
Out
47
open collector (-)
to 24Vdc indicator on command station
48
sensor off (if any)
Out
48
open collector (-)
to 24vdc relay(if any)
49
Switching Power Supply Positive Voltage
24Vdc
+
50
Switching Power Supply Negative Voltage
–
Specification
| | |
| --- | --- |
| Output signal | 10 Ch. Line monitoring output (max 500mA output for each channel) 14 open collector output |
| Input signal | 24 Ch. Opto-Isolation input |
| Command station operation joystick/switch & indicator which has the ability to connect to MC1120 | Left / Right – Up / Down joystick & feedback indicators Water actuator valve open/close pushbutton & feedback indicators Foam actuator valve open / close pushbutton & feedback indicators Fog & jet pushbutton & feedback indicators Oscillating mode pushbutton & feedback indicator On/off switch with related indicator Fault indicator Emergency shutdown pushbutton |
| Operation voltage | Normal 24Vdc (18 ~28Vdc) |
| Controller Power consumption | Max 550mA |
| Dimension | L:220mm W:150mm H: 42mm |
| Installation | Din rail |
| Weight | 600 g |
| Frequency Band / receiver sensitivity | 2.4GHz / -98dBm |
| Operating Temperature | -40 to 60°C |
| Reaction Time | < 0.1 Sec |
| Max Distance coverage area for wireless | Visual distance 1500 meter in open area with 10dB antenna |